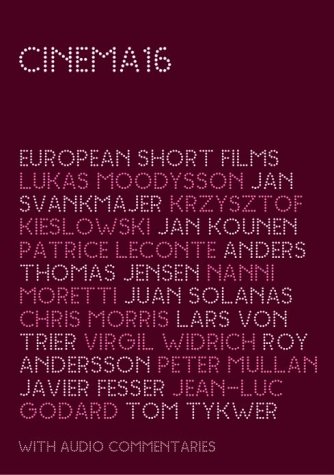 http://www.cinema16.org/home.php

CINEMA16
celebrates the short film by showcasing some of the best classic and award winning shorts on DVD.
Aside from providing short films with a much needed platform CINEMA16 gives filmmakers and movie-lovers access to some great films that would otherwise be near impossible to see, from the fascinating early works of some of Europe?s greatest directors to award-winning films from its most exciting new filmmakers. With over three and a half hours of films CINEMA16 is essential viewing for anyone with an interest in the moving image.
All of the films are accompanied by audio commentaries (in English), almost always by the directors themselves.
The release of CINEMA16: EUROPEAN SHORT FILMS follows the success of CINEMA16?s first collection of British short films and further demonstrates its dedication to this important area of filmmaking.
IT SHOULD be the perfect medium for a culture whose collective attention span has been whittled down to a matter of minutes over the last decade or so. But there's a widespread resistance in British audiences to the short film. There's a feeling among many people that a short is simply a failed feature, the poor relation of the film-making world, or something that directors make as a calling card, to earn their stripes before graduating to "proper" cinema.
Luke Morris, an award-winning short-film producer and a man with a mission to get shorts seen, says that some audiences are resistant to shorts, in some cases justifiably so, "because they have been shown too many bad films and they have lost faith in the form.

"People have seen too many bad films and not enough good ones, and the idea of this project is to put all the good ones in one place."
The project in question is Cinema 16: European Short Films, a DVD selection of shorts from directors such as Lars Von Trier, Jean-Luc Godard, Krzysztof Kieslowski, Nanni Moretti, Peter Mullan, Tom Tykwer and Roy Andersson, together with acclaimed films from lower-profile directors. Admittedly, the fact that the collection lists some of the greats of European cinema makes it an easier sell than a less illustrious collection of short films, but the treats in this collection are not limited to the big-name contributions.
I should probably declare a vested interest at this point. For the past three years I have programmed short films for The Times London Film Festival, a job that requires the stamina to sit through almost 1,000 short films every year and an unshakeable faith the short film as a medium.
There's something pure and direct about a great short film that is like listening to a perfect pop song.
Peter Mullan, whose film Fridge is included in the collection, agrees: "For me it's like a single, it's not the album. And for me the short films that don't work are the ones where they think it's an album so they want to put everything in."
An attraction of the short film for film-makers is that it's a place where they can play with ideas and techniques that would not sustain a feature. A perfect example of this on Cinema 16 is the Austrian director Virgil Widrich's Oscar- nominated Copy Shop, a film about a man who works in a photocopy shop and duplicates himself until he fills the world.
The film consists of nearly 18,000 photocopied digital frames which were then painstakingly animated.
The real gem of the collection, however, has appeal beyond its technical prowess. The Man Without a Head (pictured below) is an achingly beautiful first film from the cinematographer Juan Solanas.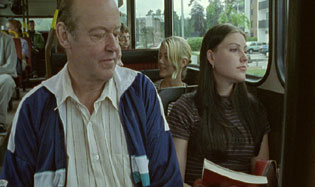 Bara prata lite (1997)aka Talk




Director:

Lukas Moodysson

Birger has not had a visitor in eight years. Suddenly the doorbell rings.
Lukas Moodysson?s previously unreleased short that laid the foundations for his critically acclaimed features SHOW ME LOVE (FUCKING ?M?L) TOGETHER and LILYA 4-EVER.
'TALK is a movie about a certain kind of Swedish loneliness. I remember when I was making the film I was thinking about American Psycho and I was calling this film Swedish Psycho. American Psycho was born out of American specific culture, consumerism, and this movie?s about the psycho being born out of a Swedish sickness that?s loneliness.'
Lukas Moodysson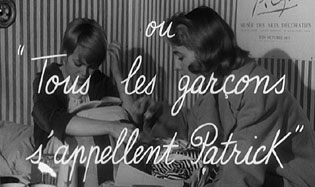 Charlotte et Véronique, ou Tous les garçons s'appellent Patrick (1959)




Director:

Jean-Luc Godard
France/1957/21mins

An intriguing example of his early work, Tous les Gar?ons was Godard?s first Parisian short and is unique in being the only time Godard directed from someone else?s script - in this case Eric Rohmer.
Students Veronique and Charlotte separately meet the same man who makes a date with each of them. But when they both turn up at the same time, so does he - with a third woman in tow.
'Jean-Luc Godard?s early films revolutionised the language of cinema for everyone, from the Superbrats of Hollywood to the political film-makers of the Third World, and he remains today the most influential of film-makers.'
Colin MacCabe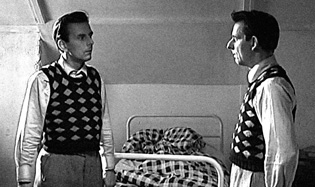 Copy Shop (2001)


Director:

Virgil Widrich
AU/2001/12mins/35mm/b&w

COPY SHOP is an ingenious, visually stunning experimental film about a man who works in a copy shop and copies himself until he fills the whole world. The film actually consists of nearly 18,000 photocopied digital frames, which are animated and filmed with a 35mm camera.
Written, produced, edited and directed by Austria's Virgil Widrich, COPY SHOP uses and comments on contemporary technology so lyrically that it recalls the most poetic films of the silent era.
Aside from an Oscar nomination COPY SHOP was a huge hit at festivals around the world, playing at 133 festivals and receiving over 30 international awards.
"Copy Shop was made with printed out paper - the whole film was animated like a flip book. Every film was filmed with a digital video camera then printed out and reanimated. We did this to save shooting on 35mm or 16mm and it turned out to be a nice way to make the film look the way it does."
Virgil Widrich on Copyshop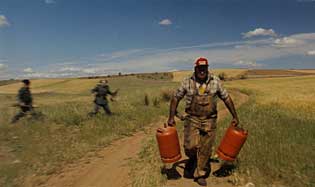 Secdleto de la tlompeta, El (1995)




Director:

Javier Fesser
Spain/1995/18mins

A striking debut short from Javier Fesser (MORTADELO AND FILEMON), one of Spain?s most imaginative and visual filmmakers, that has garnered cult status in its home country. A quiet filling-station attendant runs away from the police. While escaping, he meets father Lucas, whose doorman happens to be a key piece in completing the puzzle that helps to unveil 'The Secdleto of the Tlumpeta'.
'I learned more about cinema from Tintin than from John Huston.'
Javier Fesser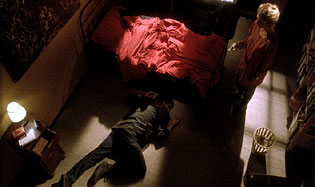 Epilog (1992)




Director:

Tom Tykwer
Germany/20/12mins

I think it?s important that audiences see short films ? the most important reason is the effect it has on the filmmaker because you get your first experience with audiences ? you understand so much more what happens to a movie when it?s seen by people - it transforms the whole experience. Tom Tykwer
A stylish revenge film from Tom Tykwer that set the precedent for his international hit Run Lola Run.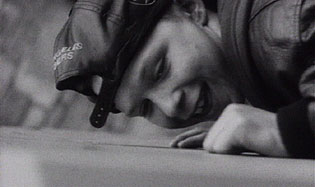 Fridge (1995)
Director: Peter Mullan
Scotland/1996/20mins

For me there?s no greater art form than the short film. Peter Mullan
A disturbing and moving short from Peter Mullan, whose most recent feature, THE MAGDALENE SISTERS, managed to both win the Golden Lion at Venice and be condemned by the Vatican.
A tale of a boy trapped in an abandoned fridge at the back of a housing estate and the attempts of an alcoholic couple to free him.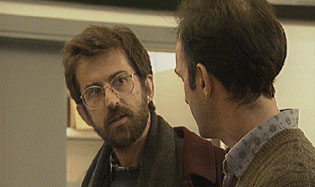 Giorno della prima di Close Up, Il (1996) aka Opening Day of Close-Up
Director: Nanni Moretti
IT/1996/35mm/color/7mins

The OPENING DAY OF CLOSE-UP is a classic short from Italy's most influential director, that sums up the state of cinema in less than 10 minutes.
With the awarding of the Palme d'Or at the 2001 Cannes Film Festival to Nanni Moretti's new film, The Son's Room, a wider international community has begun to learn what many have long known: that Moretti is a bellwether of contemporary Italian cinema. From the early 1970s, when his first Super-8 shorts were a hit with Roman cinema clubs, to this most recent success, the forty-seven-year-old Moretti has written, directed, and starred in each of his films. An intellectual even amidst low-brow slapstick, Moretti, practices the art of balancing comedy with deeper metaphysical concerns and a political consciousness.
At his cinema in Rome, the Nuovo Sacher, Nanni Moretti anxiously oversees preparations for the premiere of the film Close-up, by Iranian director Abbas Kiarostami. Meanwhile Disney's The Lion King is taking Italy by storm.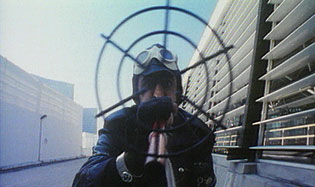 Gisele Kerozene (1989)
Director: Jan Kounen
Holland-France/1999/4mins

The first short film from Jan Kounen (DOBERMANN, BLUEBERRY) is a wild broomstick ride around the cityscapes of Paris. A frame by frame animation, from an inspired imagination, that takes its influence from Norman McLaren?s classic animation short The Neighbours.
A group of `proto punk' witches mount their brooms and indulge in a wild track race to try to get back a magic skull cowardly stolen by Gisele Kerozene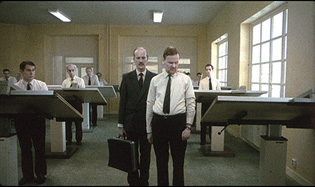 Härlig är jorden (1991)aka World of Glory
Director: Roy Andersson
SE/1991/16mins/35mm/color

Roy Andersson's WORLD OF GLORY is a classic, recognised by the Clermont-Ferrand Short Film Festival to be one of history's most important short films, and included in a top-ten list together with such films as the Lumiere Brothers' LA BATAILLE DE BOULES DE NEIGE and Luis Bunuel's UN CHIEN ANDALOU. The film is unique and shows, in a series of tableaus, a man in various frozen situations. He's the product of a stiff and reserved Sweden, living politely while feeling very miserable somewhere behind the painfully correct facade. The film's Swedish title, Härlig är Jorden (literally, 'Lovely is the earth'), which comes from a Swedish hymn of the same name, stands in sharp contrast to the cold and lifeless mood of the scenes.
Roy Andersson is famous for the individuality of his films and the singular style of his work. After a 30 year break he completed his third feature, SONGS FROM THE SECOND FLOOR, which won the Jury prize at Cannes in 2000 and had considerable international success. Andersson's latest feature, DU LEVANDE (We The Living), was completed in 2007.
"The opening scene of World of Glory is a reconstruction of events during the Second World War. The term 'ethnic cleansings' did not exist then, it was called the 'final solution'. Human beings were put to death by, among other methods, gassing in diesel-driven, closed vans. The gas from the motor was piped into the storage compartment. These vans were the forerunners of the gas chamber.
These events, this conduct, these rationally worked out extermination methods, this coldness and insensitivity towards other people's suffering are for me the total embodiment of evil. How shall we handle this knowledge of what humanity is capable of?"
Roy Andersson on World of Glory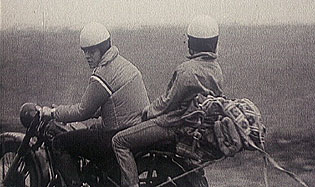 Koncert zyczen (1967) aka Concert of Wishes
Director: Krzysztof Kieslowski
Poland/1968/16mins

A young couple travelling by motorbike leave a lake campsite at the same time as a bus load of men. They lose the tent along the road which is picked up by the men in the bus, who offer a trade: the tent for the girl
A rare opportunity to see one of Krzysztof Kieslowski?s (DECALOG, THREE COLOURS TRILOGY) first fiction films ? a graduation short from the Lodz Film School in Poland (whose students also included Roman Polanski, Andrzej Wajda and Krzysztof Zanussi) made when he was just 26 years old.
I haven't got a great talent for films. Orson Welles, for example, managed to achieve this at the age of twenty-four or twenty-six when he made 'Citizen Kane' and, with his first film, climbed to the top, the highest possible peak in cinema. But I'll need to take all my life to get there and I never will. I know that perfectly well. I just keep on going.
Krzysztof Kieslowski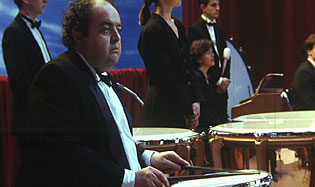 Batteur du boléro, Le (1992)
Director: Patrice Leconte
France/1992/8mins

The ordeal of an orchestra drummer on having to play Maurice Ravel?s Bolero again.
An opportunity to see Patrice Leconte (RIDICULE, THE HAIRDRESSER?S HUSBAND, THE GIRL ON THE BRIDGE, L?HOMME DU TRAIN) return to the short form after years of successfully making features.
'This idea is very, very simple, it?s nothing, it?s crazy. I had this idea in my head for a long time. One day I met Gilles Jacob in Cannes and he asked me: you never want to shoot short films between feature films? Uh no, no?ah, except one idea?and I told him the idea of the Batteur du Bolero.'
Patrice Leconte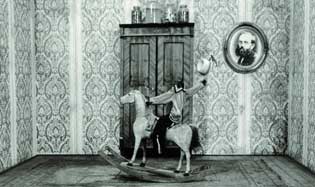 Zvahlav aneb Saticky Slameného Huberta (1971)aka Jabberwocky
Director: Jan Svankmajer
CZ/1971/13mins/color

"The world is divided into two unequal camps - those who have never heard of Jan Svankmajer and those who happen upon his work and know that they have come face to face with genius".
The New Yorker
"My films have several meanings, and I'd rather they inspired the viewer to use his own subjective symbolism to interpret them. Just as in psychoanalysis, there must always be secrecy. Without secrecy, there is no art."
Jan Svankmajer
Jan Svankmajer is one of the world's most imaginative and extraordinary film-makers. Svankmajer, known for his four features, ALICE, FAUST, CONSPIRATORS OF PLEASURE and LITTLE OTIK also produced 24 short films between 1964 and 1990, only concentrating on longer works after the collapse of Communism in Czechoslovakia. JABBERWOCKY, based on Lewis Carroll's poem, is one of the most famous works of this master surrealist.
"My version of Jabberwocky, which has no conventional narrative, was a Freudian record of the development of a child through all its stages: through homosexuality and sado-masochism to rebellion against the father."
Jan Svankmajer on Jabberwocky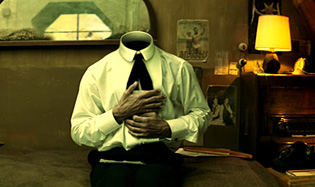 Homme sans tête, L' (2003) aka The Man Without a Head
Director: Juan Solanas
Fr/2003/18mins/35mm/color

THE MAN WITHOUT A HEAD (L'HOMME SANS TÊTE) is one of the most outstanding short film debuts of recent years. Made over 4 years by Juan Solanas, who previously worked as a cinematographer, it's not only visually and technically accomplished, but also sensitively drawn - a great example of how a short can be every bit as entertaining and moving as a feature. The film won a raft of awards around the world including the Jury Prize at the 2003 Cannes Film Festival and France's leading award, the Cesar.
An ordinary room overlooking a vast industrial landscape. In the distance, the ocean as far as the eye can see. With a nostalgic air, the man without a head dances with lively steps. A bow tie is tied. A photograph, with a dazzling look from the one he loves. He prepares himself for the romantic rendezvous. Tonight, he will declare his love. For such an occasion, he shall buy a head.
"We're living in a period where cinema is a product; movies are becoming more and more commercialized. Short films are one of the last real places for artistic freedom - they're important to celebrate just for that." Juan Solanas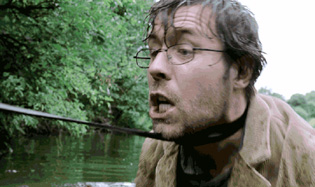 My Wrongs 8245-8249 and 117 (2002)
Director: Chris Morris
UK/2003/12mins

MY WRONGS is the first film from the maverick talent Chris Morris, who?s been responsible for some of the UK?s most controversial television. It?s also the debut film from Warp Films, an offshoot of Warp Records, widely regarded as Europe?s greatest pioneers of electronic music.
MY WRONGS 8245-8249 AND 117 is about a man who no longer uses his name because he's decided he's ceased to deserve one, and a dog called Rothko.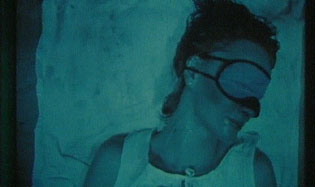 Nocturne (1980)
Director: Lars Von Trier
DK/1980/8mins/color

Nocturne was Lars Von Trier's graduation film made at the The National Film School of Denmark in Copenhagen. It's an intriguing look at the beginings of the career of one of Europe's most prolific and provocative film directors (BREAKING THE WAVES, DANCER IN THE DARK, DOGVILLE). Von Trier is closely associated with the Dogme collective calling for a return to plausible stories in filmmaking and a move away from artifice and towards technical minimalism.
Lars von Trier's tense, experimental film, about a woman and her fear of day light recalls the work of avant-garde pioneers Maya Deren and Luis Bunuel. A mysterious phone call and circling flock of birds accentuate the visual poetry and establish the compelling emotional upset and narrative tension of which Von Trier would later become master. He has described himself in Interview magazine (June 1989) as "a melancholy Dane masturbating the dark to images on the silver screen." He has never been to the United States as he refuses to fly.
"Everything said or written about me is a lie"
Lars von Trier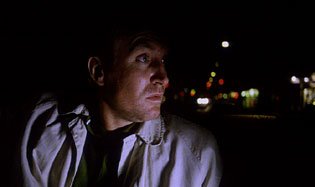 Valgaften (1998)aka Election Night
Director: Anders Thomas Jensen
DK/1998/11mins/35mm/color

Anders Thomas Jensen made three short films over three consecutive years. Each year he was nominated for an Oscar until he finally won with this final short, ELECTION NIGHT. Anders Thomas Jensen is one of the most prolific young writers in Denmark and has been at the forefront of Dogme movement as a screenwriter (MIFUNE, THE KING IS ALIVE) but has directed two features in his own right.
On election night we meet Peter, an idealistic young man, who suddenly discovers he has forgotten to vote. On his way to the polls he encounters a variety of taxi drivers, all racist in their way and Peter has to decide whether to stand up for his convictions or get to the polls on time.
"I got the idea when I drove with a cab driver like this one. He was so racist. I asked him in a polite way to shut up but he didn't shut up. I asked him if he had anything to read and he actually gave me Mein Kampf. I had this important meeting and couldn't get off - that was when I got the idea for the film."
Andres Thomas Jensen on Election Night




Download Links:

Code
http://rapidshare.com/files/134717833/Cinema16.part01.rar
http://rapidshare.com/files/134717880/Cinema16.part02.rar
http://rapidshare.com/files/134717884/Cinema16.part03.rar
http://rapidshare.com/files/134729510/Cinema16.part04.rar
http://rapidshare.com/files/134729571/Cinema16.part05.rar
http://rapidshare.com/files/134729661/Cinema16.part06.rar
http://rapidshare.com/files/134729681/Cinema16.part07.rar
http://rapidshare.com/files/134740610/Cinema16.part08.rar
http://rapidshare.com/files/134740702/Cinema16.part09.rar
http://rapidshare.com/files/134740717/Cinema16.part10.rar
http://rapidshare.com/files/134740746/Cinema16.part11.rar
http://rapidshare.com/files/134767559/Cinema16.part12.rar
http://rapidshare.com/files/134767625/Cinema16.part13.rar
http://rapidshare.com/files/134767659/Cinema16.part14.rar
http://rapidshare.com/files/134767674/Cinema16.part15.rar
http://rapidshare.com/files/134787291/Cinema16.part16.rar
http://rapidshare.com/files/134787506/Cinema16.part17.rar
http://rapidshare.com/files/134787437/Cinema16.part18.rar
http://rapidshare.com/files/134787475/Cinema16.part19.rar
http://rapidshare.com/files/134786095/Cinema16.part20.rar